Since my Original review of Emsisoft back in 2015, Emsisoft has added many new awesome features, like anti-ransomware and Windows Firewall Fortification features. Emsisoft Anti-Malware is the complete solution for your Anti-virus and Anti-Malware needs with the added protection from Ransomware that is extremely bad recently.
We have thoroughly tested Emisoft Anti-Malware on Windows 10, and it has stopped everything we threw at it!   Highly Recommend for All Windows operating systems.  It works flawlessly on the new Windows 10, and no sacrifice in performance at all, and absolutely ZERO conflicts.
"Emsisoft is HANDS down the BEST protection on the market! It is the ONLY protection we use personally!"
Contact us for Installation!
Forget viruses – Today's threats come in new shapes and are called Malware
That's why we think "Anti-Malware" is the more appropriate term, even if it's the same as what's commonly known as "Anti-Virus".
Ransomware
Threat of the year since 2012. Attackers enter your PC through unpatched software and encrypt all your files. Can you afford to pay a $600 ransom to get your data back?
Bots/Backdoors
They turn your PC into a remote controlled zombie. Your computing power is collectively sold on the black market to send spams, attack others or store illegal content.
Banking Trojans
Hackers use phishing techniques and keyloggers to get your most valuable passwords and empty your bank- or PayPal-accounts invisibly within seconds.
PUPs
Potentially Unwanted Programs that mess up your computer with useless browser toolbars, tons of commercials and other bulk that slows down the PC.
2 in 1: Emsisoft's high performance dual-engine scanner
How does it scan faster with two scanners than most others with just one?
Emsisoft Anti-Malware Home not only detects more because it uses the full power of two major antivirus- and anti-malware technologies, it also scans quicker because of the efficient combination of the scanners.
Any unnecessary duplicates in detection are avoided, enabling the least impact on memory and overall hardware resources.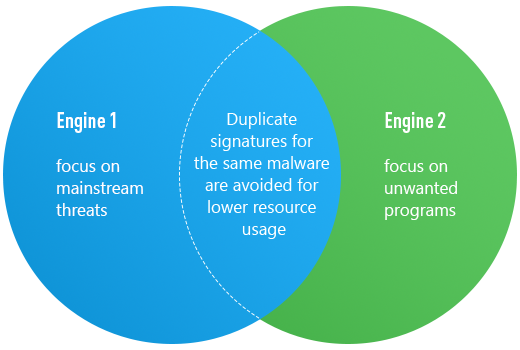 Destroys annoying Adware – one at a time
In Internet security, "PUP" stands for "Potentially Unwanted Program". These are unneeded browser toolbars, adware and other annoying software that typically gets installed with freeware software downloads.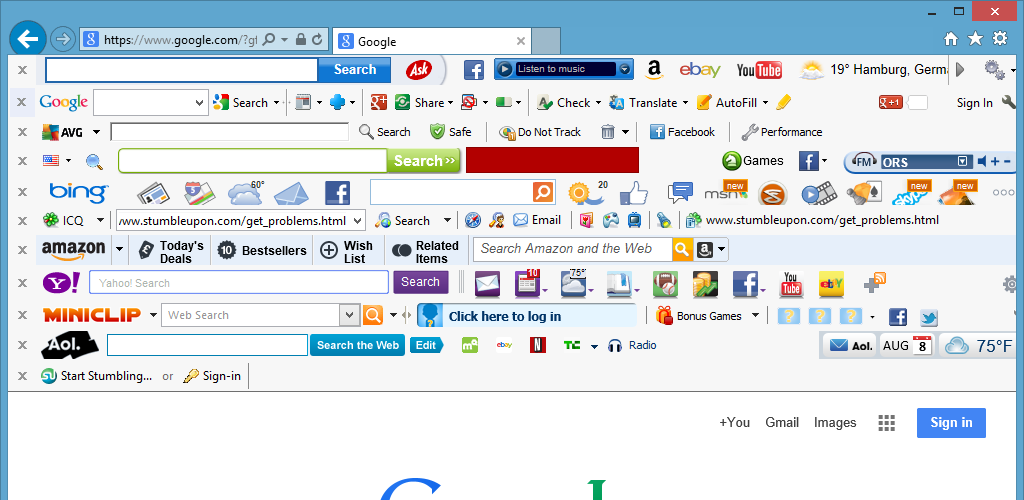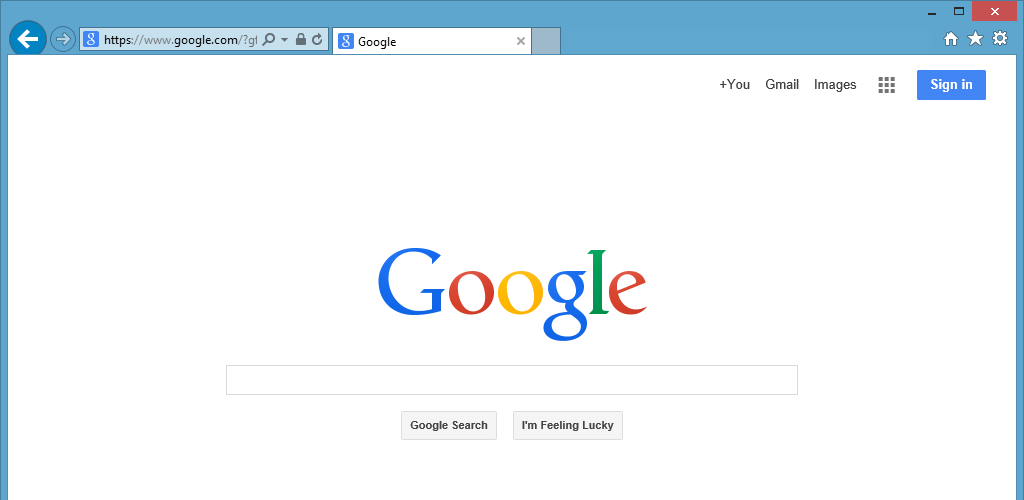 Without Emsisoft Anti-Malware Home
After cleaning with Emsisoft Anti-Malware Home
4 proven protection layers to block online threats on all levels
Surf Protection
If you unintentionally try to view a website that spreads trojans, spyware, or any other type of malicious software, Emsisoft Anti-Malware Home will prevent you from connecting and getting infected.
Real-time File Guard
This real-time protection layer checks all downloaded and modified files with the awarded super-fast Emsisoft dual-engine scanner. The best: You won't even notice it's there for you 24/7.
Behavior Blocker
To stop brand new threats that aren't yet known by signatures, Emsisoft Anti-Malware Home continually monitors the behavior of all active programs and raises an alert as soon as something suspicious occurs.
Anti-Ransomware
Custom-built behavioral monitoring stops ransomware before it can encrypt any files.
300.000 new threats every day >>

Your Safe PC
New: Safe web-browsing with Emsisoft Browser Security
A browser extension for Chrome, Firefox and Edge that blocks bad websites without compromising your privacy. More on Emsisoft Browser Security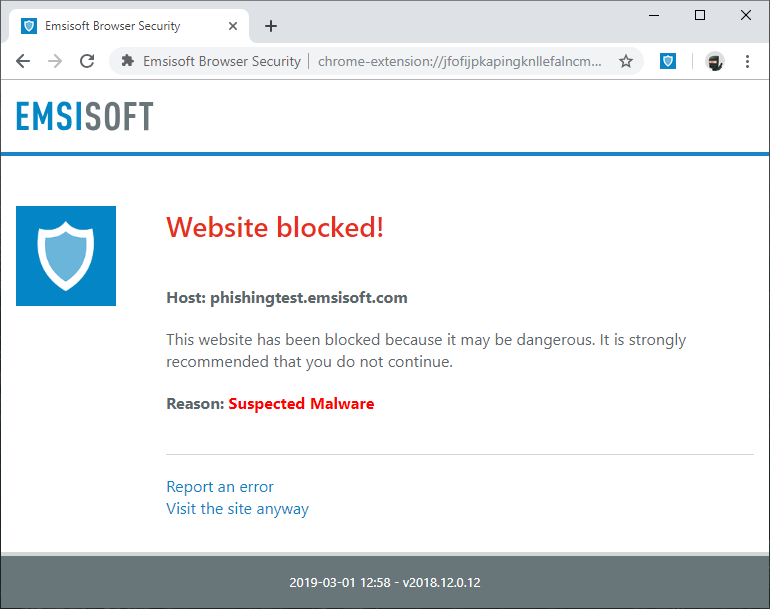 Stops Ransomware. Before it encrypts your files.
Emsisoft's Anti-Ransomware protection layer is custom-built to detect behavioral patterns of ransomware attacks and stop them before your files can be encrypted. Other anti-ransomware solutions rely on detection of repeated encryption, so your most valuable files may already be lost before they act.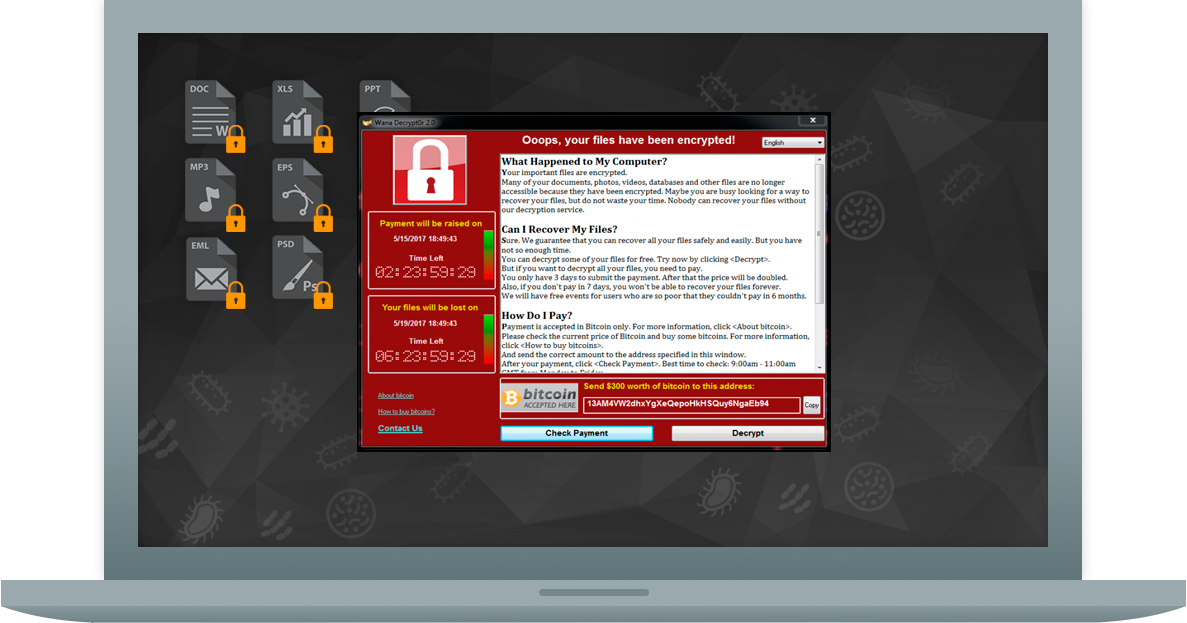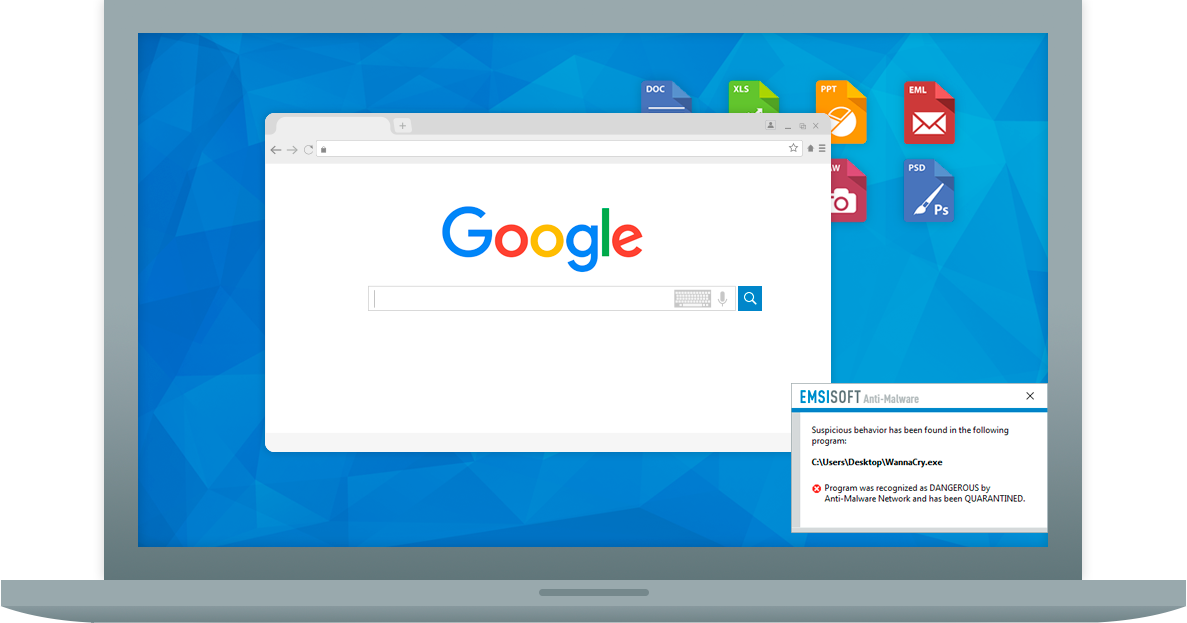 No ransomware protection
Emsisoft Anti-Ransomware enabled
Every hero needs a sidekick – Create your own portable Emergency Kit
Use Emsisoft Anti-Malware's Emergency Kit Maker to create your own swiss army knife for scanning and cleaning infected third party computers. More on Emsisoft Emergency Kit
Optional: Add protection for your Android devices
Emsisoft Mobile Security is our first response to the world of mobile malware. It is a next-gen security solution for Android devices focused on little to no system or battery impact while providing access to a number of security functions in order to help you have a safer and more informed Android experience.
Protect your Android smartphone and tablet from dangers awaiting on the Internet.
Features include:
Scans all stored files for malware infections
Real time protection that blocks malicious apps as they arrive
Surf protection that blocks access to dangerous websites
Anti-Theft to lock or wipe the device remotely when stolen or lost
AV-Comparatives Malware Protection Test – September 2018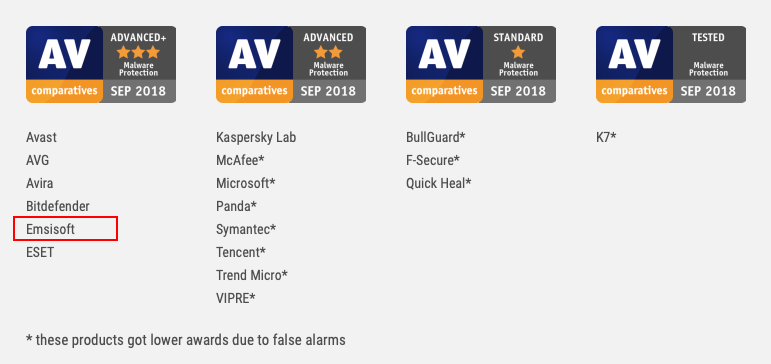 Protection for as little as $29.99 a year!   Contact us or Emisoft today!
We can remotely install and configure this for you!