Godaddy no longer offers any discount or coupon codes for renewals. All they offer is discount / coupon codes for new products. The problem with this is that Godaddy is extremely over priced. A domain with godaddy is 14.99 for one year, $9.99 a year for whois privacy and another $5.00 for domain protection. So 1 year renewal for a domain is roughly $30.00 a year!!!
This is a huge ripoff. What are you thinking Godaddy?? The only reason I bought and renewed products with Godaddy was because of the coupon codes, and even then they were still higher priced.
I now have switched with Namesilo.
www.namesilo.com
I transferred one of my domains today. It was SUPER easy. Took 15 minutes and they have an easy instruction page on how to do it. Anyone can!
NameSilo is a USA company out of Phoenix, Arizona.
Here is what
NameSilo
Charges:
$8.99 per year. No Coupon Necessary. Free Whois Privacy, Free Domain Protection! FOR LIFE!!!
Use Coupon Code: "Gohighvoltage" for $1.00 off at NameSilo!
NameSilo is the way to go!
Also if your looking for a hosting company, I highly recommend
JaguarPc
. I have been with them for years and LOVE the service, pricing and tech support!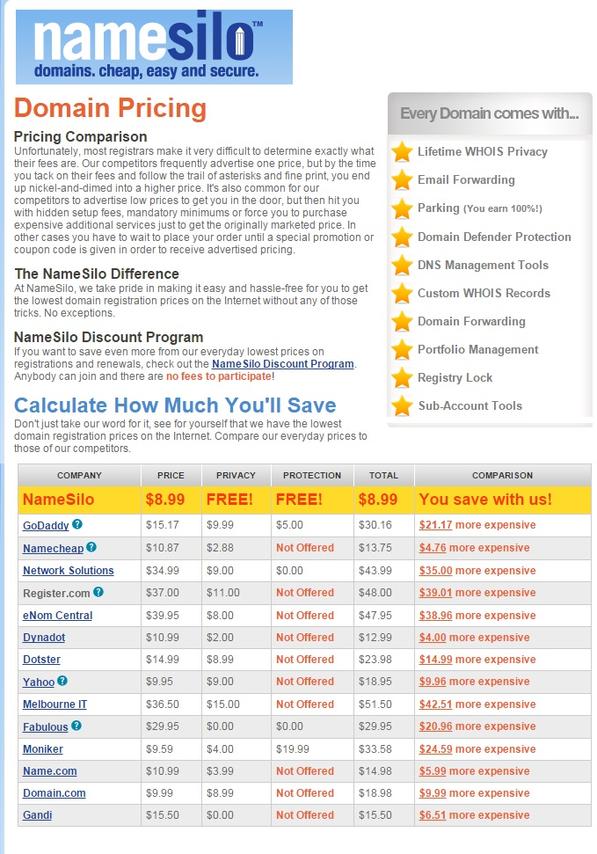 Use Coupon Code: "Gohighvoltage" for $1.00 off at NameSilo!